Welcome to Edgewood Garden
Edgewood Garden is a large estate garden created on 32 acres in Edgewood, Washington by Ilga Jansons and Michael Dryfoos. They started out in 2004 with a property covered mainly in lawn and blackberry bushes, and centered on a large Northwest Contemporary style house built in 1981 with a stunning view of Mt. Rainier. Since then they have created a garden grand in scale yet intimate in experience, featuring various garden rooms or themes, from bird-filled woods to more formal rose gardens to contemplative Asian settings. Now coming into maturity after several years of development, Edgewood Garden is rare in scale and ambition, and in the hands-on attitude of the owners.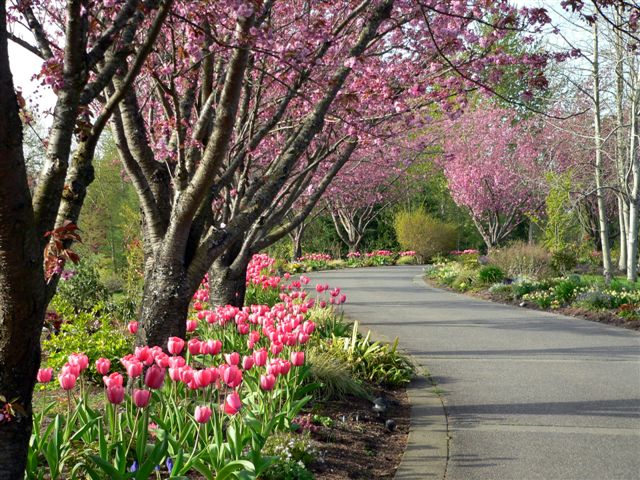 Garden Events
In special situations, we may be available by appointment, please email to inquire.
Ilga's Handspun & Hand Dyed Wool
Some of you know that Ilga has been making handspun yarn for knitting and hand painted roving for spinning and felting. Her work is now for sale online on Etsy, for all your knitting, spinning and related craft needs. Please visit us there by clicking the button below.

---
Photos of the Garden
Click on the buttons or the photographs below to see pictures of various parts of the garden. The Daily Photo button links to a daily record from 2009 of what caught Ilga's eye in the garden at the time. The other buttons are some of our favorite images showing different aspects of the garden over the years.
Ilga has started a new daily photo project, now hosted on the photo blog site Blipfoto. Click the button to visit her Blipfoto journal.

---
More Garden Information
The buttons below will take you to Ilga's very occasional blog, some older garden articles she has written, a partial plant list, and links to other interesting garden sites.
Contact Us
Questions about Edgewood Garden? Feel free to email us at info@edgewoodgarden.com, or click the button below to use our feedback form.


This button launches a separate window with an aerial photo of the garden from 2007, with some features marked (Adobe Reader required).
This web site and all images and other contents Copyright © 2008-2015 Edgewood Garden LLC.